FROM DESIGN CONCEPT
TO PRODUCT REALISATION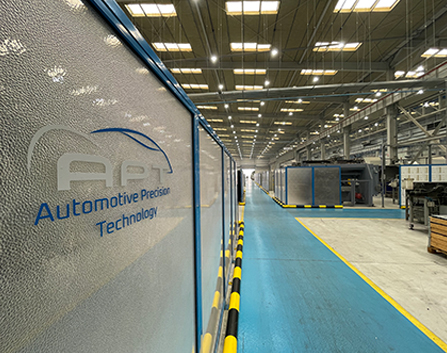 FROM DESIGN CONCEPT
TO PRODUCT REALISATION
The essence of automotive supply is exactness and efficiency, as aligned to Automotive Precision Technology (APT)'s core values of Accuracy, Professionalism, and Teamwork.
Here at APT, we seek to provide the best manufacturing service in terms of speed of project implementation, process quality control for zero defects, all at a competitive market price. We look forward to engaging with your team to make your next project a success. Below you will find further info on our typical service offerings, and if you are interested in working with us as your supply partner, please visit the contact us page.
OUR MANUFACTURING PROCESSES
Sawing and Mitre Cutting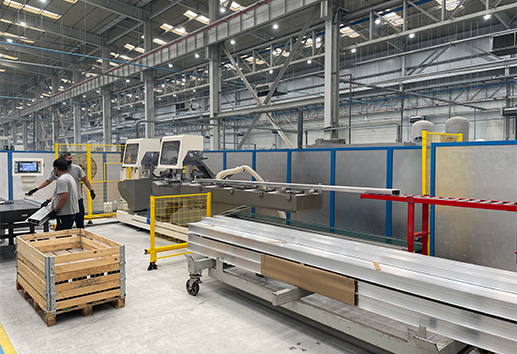 Sawing and Mitre Cutting
Right at the start of the extrusion fabrication process is saw cutting the products to the required size and end-cut condition. This can be a blank length for further processing in the production stream, or a finished part cut length with 90 degree ends, or we can cater for compound mitres of varying angles depending on customer designs. Our state-of-the-art saws are accurate and efficient.
Pressing and Punching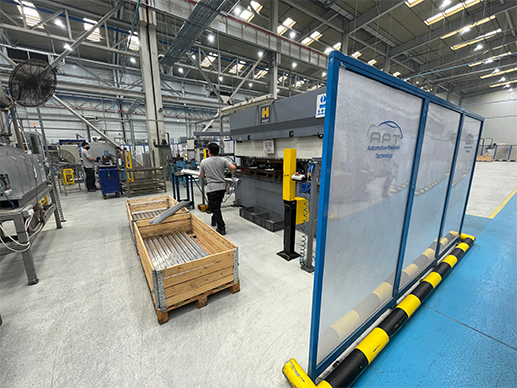 Pressing and Punching
For high volume products, punching or pressing features is always a robust and efficient method to remove metal from extrusion blanks. We can create tooling for complex metal removal features; our press machines wield up to 160 tons of pressure. We work with reputable toolmakers at the RFQ stage of projects to ensure the most suitable route is deployed for each project where pressing or punching is required (via machine press or by special purpose standalone unit).
CNC Milling
CNC Milling
A very important area of production for automotive extruded componentry is the process of milling to remove metal. Here at Automotive Precision Technology (APT), we house various size milling machines, including 3-axis & more complex 5-axis, to rapid production robot milling technology. The method and choice of machine is determined at the start of each project RFQ and priced accordingly. Our engineering and maintenance teams ensure efficiency and uptime is kept as high as possible.
Welding (Manual and Robotic)
Welding (Manual and Robotic)
To ensure we can support all areas of extrusion-based production, welding and joining aluminium sub-parts into assemblies is also offered. We can provide different types of aluminium welding methods, including CMT (Cold Metal Transfer) of which we can do manual for small batch work and robotic for serial production in volume. We also offer manual TIG welding if required.
Profile Bending – High Volume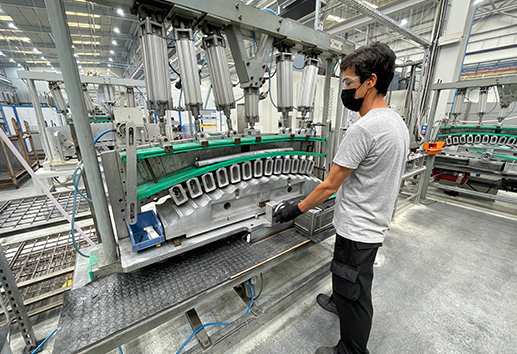 Profile Bending – High Volume
From compression bending sunroof guide rails to large volume & highly accurate stretch-bending, we are here to support your project requirements. Typical applications include car bumper area components, car body and sunroof applications that require the extrusion profile to be curved accordingly. At Design For Manufacture (DFM) stage, we will require shape and tolerance requirements to apply the necessary method for bending.
Heat Treatment – After Bending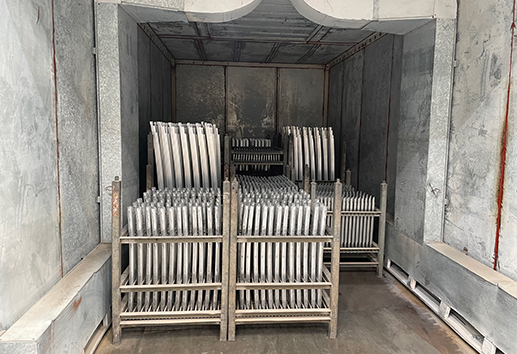 Heat Treatment – After Bending
The process of heat-treating the parts after bending is critical to ensure conformity to customer specifications. The bending process usually requires the extrusion profiles to be in the more ductile condition (typically T4). After the bending process, heat is added to the parts in an oven to cure them to the correct temper needed for the automotive application (typically T6). Shown here are sunroof components which will be subsequently anodised.
Sub-Assemblies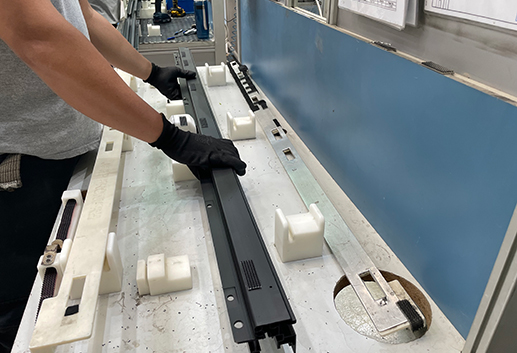 Sub-Assemblies
For any project that requires additional assembly work to complete the component, we are here to help. Our production teams are experienced in inserting various types of fixings, rivnuts, studs, adhesives, inserts or nut plates. With the adoption of vision systems to 100% check parts at the end of our lines, we can guarantee that components are fully kitted with all the intricacies required by each customer.